Dear friends and colleagues,
From the emergence of COVID-19 in 2020 to adapting to the pandemic's impact in the present, we as healthcare providers need to forge on as our cancer patients need our support in these trying times. In addition, individual therapy and personalised medicine in oncology have leaped swiftly from theory to practice. The treatment of cancer is no longer a fight against a disease in an organ but against cancerous cells that can spread out from the organ. Urologists will further focus on the treatment of the cancerous cells in lieu of surgical extirpation of the organ.

To equip you with relevant contemporary updates on genitourinary cancers, expect no less than outstanding knowledge exchange at the 19th Meeting of the EAU Section of Oncological Urology (ESOU22). Regardless of the COVID-19 outbreak, the meeting's scientific programme continues to evolve as it does year after year. It is perpetually designed to bolster your clinical practice and patient care, fortifying the ESOU meeting's standing as an essential, reputable European reference.

ESOU22 will be a fusion of round-table discussions, scientific lectures, and rapid-fire presentations delivered with an interactive approach regardless of the final format of the meeting chosen: on-site, hybrid, or virtual. You as ESOU22 (e-)delegates will have the opportunity to participate in lively deliberations and case discussions. You will receive the best and latest research and techniques, as well as, connect with renowned experts from around the world who are dedicated to addressing clinical challenges and developing new approaches. Your participation will enable you acquire the best data and information available in the field of onco-urology which in turn, enhance patient care and your daily practice.

At ESOU22, we will also celebrate young and promising urologists by giving the winners of the former STEPS Programme the opportunity to deliver their lectures, and to discuss with key opinion leaders.

These and more await you at ESOU22. We look forward to welcoming you in Madrid!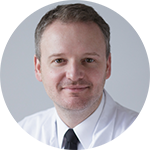 Prof. Morgan Rouprêt
Chairman EAU Section of Oncological Urology

Looking for ESOU23?

The Annual Meeting of the EAU Section of Oncological Urology is combining with several other oncology-related initiatives by the EAU in a new meeting for 2023: UROonco23 held in Gothenburg, Sweden on 30 June – 2 July.

Find out more on the new website:

UROonco23 website