Dear friends and colleagues,
The virtual 18th Meeting of the EAU Section of Oncological Urology (ESOU21) will deliver vital developments on genitourinary cancers, and highlight the role of European urologists as the principal caregivers in the field. The ESOU21 scientific programme will reflect state-of-the-art oncology in urology which fortifies the ESOU meeting as an essential European reference.

This year has been very challenging for each of us as citizens and as primary care providers and physicians. The emergence of COVID-19 impacted our countries, our societies and our healthcare systems including patients diagnosed and treated for cancer. The European Association of Urology has promoted its Guidelines during this crisis to help urologists help these patients and avoid providing suboptimal care for them. Despite the severity of the effects of the pandemic, cancer is still taking more lives than COVID-19. Our cancer patients need our support even more in these trying times.

Moreover, individual therapy and personalised medicine in oncology jump from theory to practice rapidly. The treatment of cancer is no longer a fight against a disease in an organ but against cancerous cells that can spread out from the organ. Urologists will focus more and more on the treatment of the cancerous cells as opposed to the surgical extirpation of the organ.

All ESOU21 attendees will have the opportunity to participate in lively provocative discussions online. They will receive key updates of the best and latest research and techniques, on top of valuable insights from Europe's leading opinion leaders. This year we will also emphasise our renewed partnership with SUO (Society of Urological Oncology) with a special lecture from fellow experts in the United States.

We will address the repercussions of COVID-19 on the management of onco-urology patients. We will comment on the end of "prioritization" for surgical healthcare access in the operating room.

In addition to the best expertise in urology, ESOU21 will utilise the new format to continue to stimulate scientific debates on a broader field. The meeting will be a culmination of round-table discussions, scientific lectures, rapid-fire presentation and specific lectures, all delivered with an interactive approach.

By attending the ESOU meeting, you will have the opportunity to connect with leading experts, many of whom are key opinion leaders from around the world who are dedicated to resolving clinical challenges and developing new approaches. Your participation, albeit online, will allow you to obtain insights into the most recent developments and showcase your commitment to keeping up to date with the evolution of science.

Last but not least, we will commend young and promising urologists by giving the winners of the former STEPS Programme the opportunity to deliver their lectures at ESOU21. STEPS aims to boost links with promising young clinicians specialising in urological cancers. This session allows specially selected young urologists to deliberate with key opinion leaders.

We look forward to meeting you online for #ESOU21!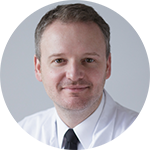 Prof. Morgan Rouprêt
Chairman EAU Section of Oncological Urology